Dangbei F3 高清投影機(國際版,含Google Play)
原裝正貨// 7日有壞包換及1年保養//
歡迎致電21109830查詢; 或點擊此處的WhatsApp
產品特色 : 
DangBei Projector F3
A Superior Experience with visual and sound
Brand New Smart projector, interpretation of leading technology
Mstar938 4G+64G                                                                               2050 ANSI Lumens
Strong & Advanced configuration                                                                                                            Better brightness and image quality
Keystone correction                                                                               Dual TOF + Camera
Third generation technology                                                                                                                        Complement the focus more efficient and user-friendly
4K engine pro                                                                                          HDR10 HLG decoding
More natural color and de-noised images                                                                                               Bring the details of the image vividly to life
MEMC up to 120Hz                                                                                   Three-channel rapid cooling
Smooth video with full color                                                                                                                             Lower noise and pure sound
How to select a smart home projector?

The Brand-New Intelligent Projector F3 is indeed useful!
2050ANSI Lumens Improved brightness
Use the New High Power RGB plus B 4-channel LED from Osram, which is a great improvement
in brightness by 46.4% and makes the experience even brighter.
RGB+B                                          46.4%↑                               1080P
*Based on 8 hours of average daily use over the life of a laboratory light source
*Compared to the model F1
Constantly breakthrough in performance
The F3 integrates MStar Ultra-VDEC decoding technology and supports the world's mainstream 4K coding formats like HEVC, VP9, H.264, H.265. The 13th generation MFC engine can easily handle 4K ultra-HD video, 3D large games, and the performance is far beyond expectations.
                Mstar938                  Samsung 4GB                   Samsung 64GB
 superior TV iChip                          Age of the Hardcore                                      eMMC5.1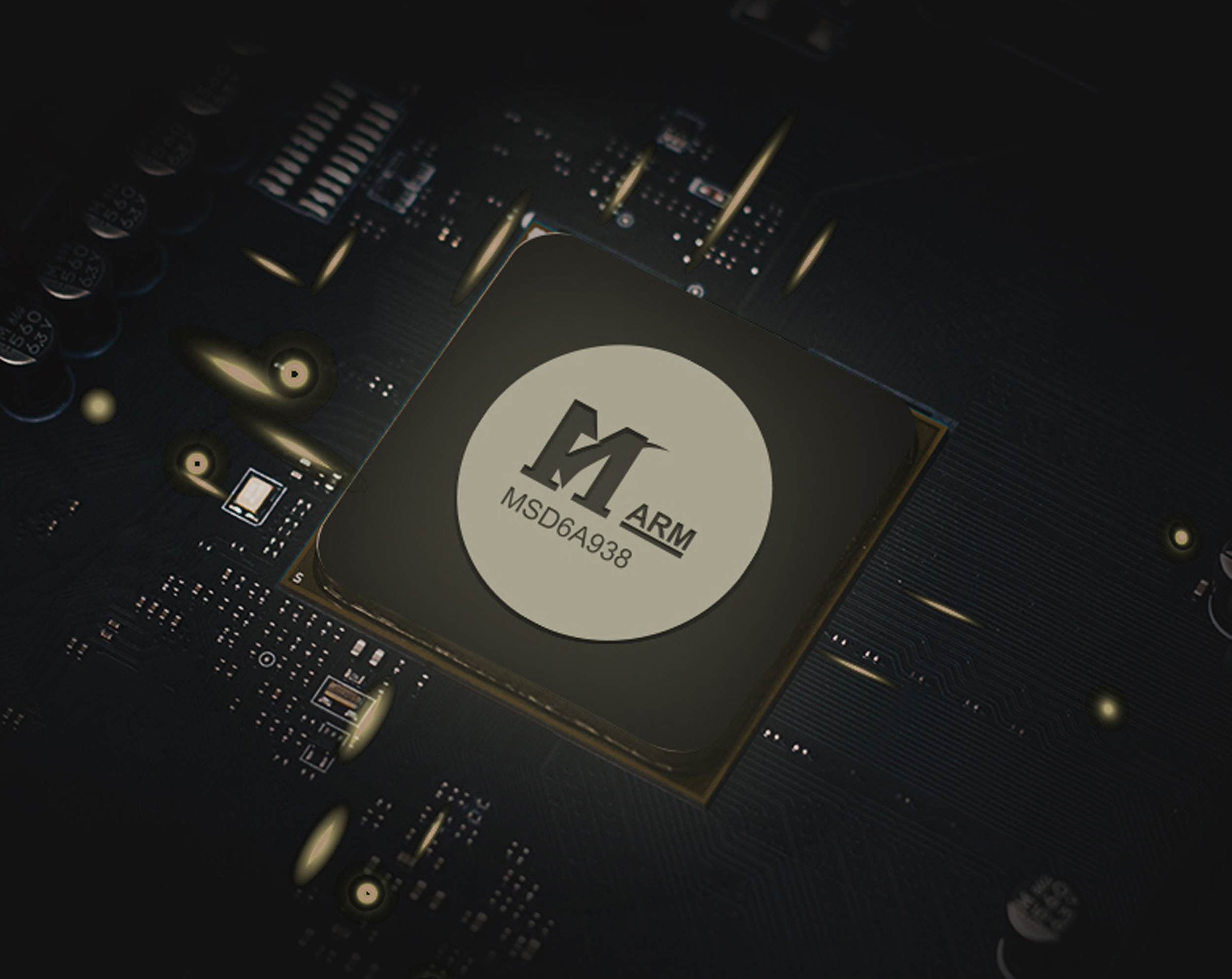 Dual TOF and CMOS camera algorithm for rapid focus.
Two miniature time-of-flight sensors transfer invisible light pulses of 940nm continuously.
The sensor receives the returned light pulses and makes precise calculations to achieve rapid focus.
Focus speed improved by 10 times.
Place however you like with Dangbei 3.0 rapid keystone correction
F3 calculates the distance difference between the left and right side under side-throw condition through a 6D mathematical model to work the trapezoidal variation with its dual-TOF module. The image turns to square efficiently. It integrated a Japanese iChips image processing chip to ensure the display of the digital image.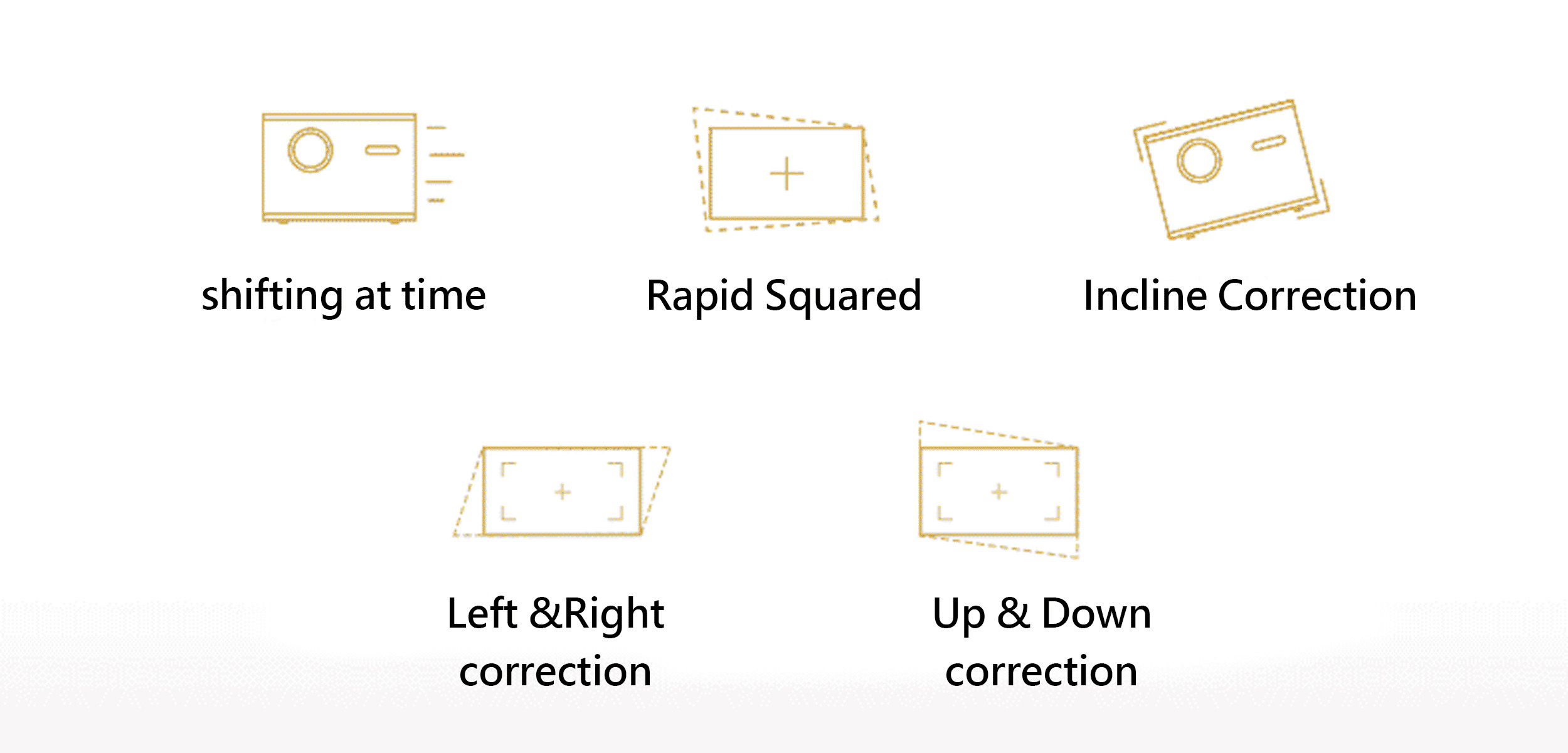 The Brand-New Intelligent Projector F3 certainly looks impressive!
Care what you watch with the 4K Engine Pro
To solve your problem of internet content with a low frame rate, noise, and low color reproduction, F3 offers you an improved color and real image.
Display beautiful and real image
The F3 supports 4K Ultra HD decoding. Its HDR 10 and Hybrid Log-Gamma technology offers cinema experience with excellent color and image.
HLG is a high dynamic range HDR standard developed by the BBC in the UK and NHK in Japan.
MEMC motion compensation up to
120 Hz
The innovative algorithm doubles the motion compensation processing capability. That is why the clarity of watching dynamic images with F3 is so different.
*Motion compensation processing power compared to the model F1 60FPS
Innovative & continuously improved Dangbei OS
Dangbei OS enables your home theater experience of the big screen and rich content. The built-in intelligent memory optimization technology keeps the system in good condition and excellent performance.
Bluetooth Remote                              Voice Control                              Intelligent Conversation
Active shutter 3D is more realistic, robust, and immersive.
Your 3D experience can be a more intense and realistic stereoscopic effect with F3.
It supports 3D movies with active shutter 3D glasses. No need to go out, enjoy your private 3D cinema at home.
Wireless screen, Super Screen
Turn the small screen to big without wire. Cast your mobile photo to a large screen, watching movies, playing games, having an online class.

An immersive experience with theater effect and pleasing sounds
The F3 offers a stereo surround sound better than before with a high-fidelity speaker, advanced sound processing and tuning technology.
Tri-channel smart cooling solution, stable and quiet.
The cooling system contains a 670g pure copper heat sink, a heat dissipation copper pipe of 8mm width, and three-group smart fans. Ensure the system operation with noise below 28Db.
*Dangbei projectors adopt AVC, Delta, and other quality brand fans.
Diffuse imaging for healthy viewing
The F3 adopts the principle of diffuse imaging, which is different from the traditional LCD TV. It projects the image onto the wall or curtain and diffusely reflected into the human eye to reduce eye irritation. It is more suitable to watch movies for a long time, especially care for the elderly and children.
        LED                                           30000h
Diffuse reflectance imaging principle                                   10 years with 8 hours a day
The new intelligent AI projection is undoubtedly fun.
Smart experience
Press the voice key and say "play youtube" or "what's the weather?" to start your quick experience.
A smart side magic key
Short press Magic key to prompt setup and long press to have fast focus.
More choices by Bluetooth
Connect to external Bluetooth earphone or Hi-Fi to enjoy your customized personal large-screen audio and video vision
Dual-band Wi-Fi for smoother streaming playback
Built-in 2.4G/5G Wi-Fi, F3 delivers more stable transmission and higher speed than single 2.4G Wi-Fi.
Dual high-speed USB 3.0 interface
Equipped with two USB 3.0 ports with a maximum transmission bandwidth is up to 5.0Gbps (640MB/s),
F3 enables you to enjoy 4K-quality, high bit-rate movies from external USB devices without fear of stuttering.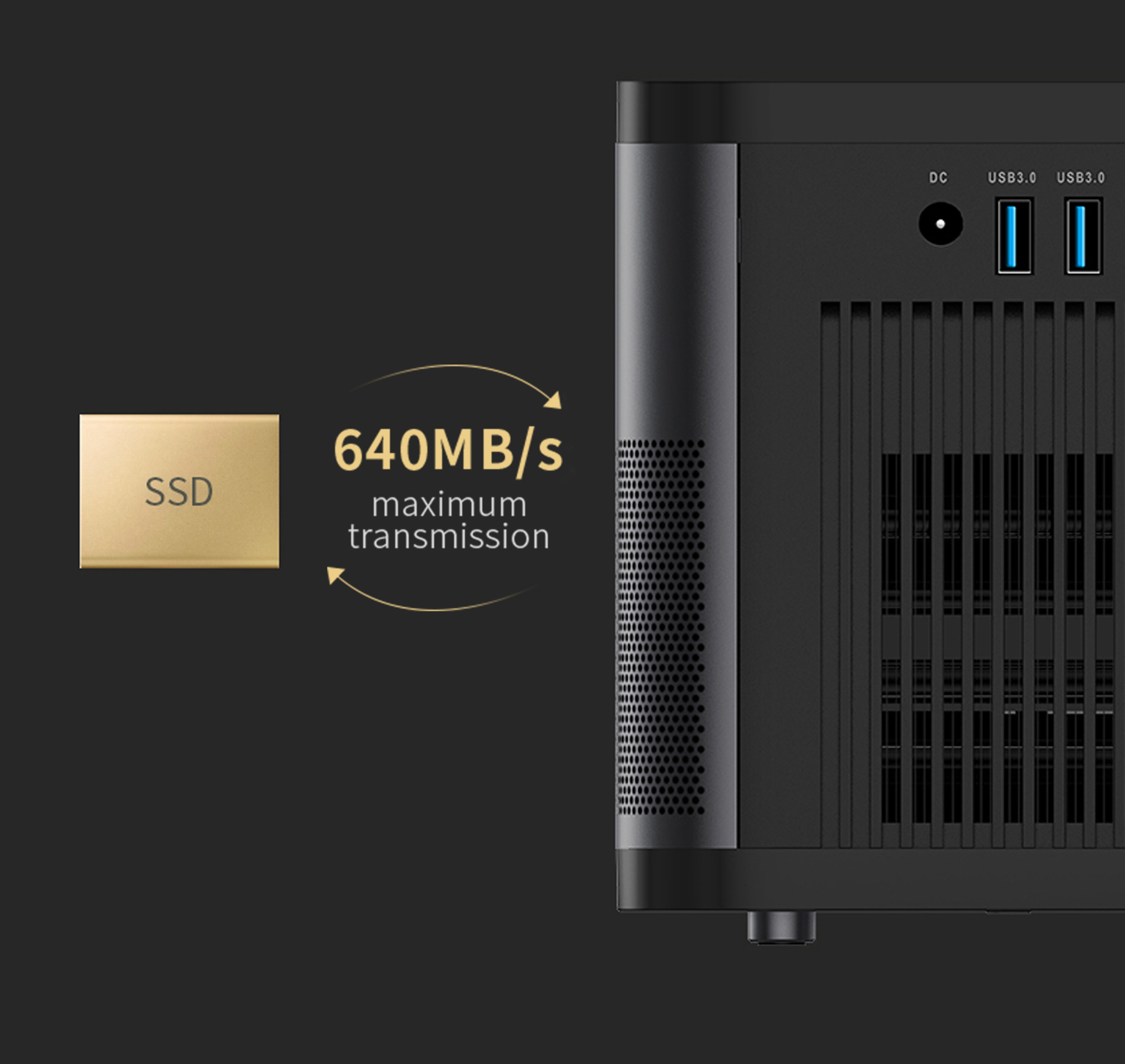 Another magic Bluetooth speaker with a full range of expansion interfaces
Equipped with an HDMI (ARC) port that can transmit high-quality audio and video signals, supporting access to computers and game consoles (switches). The smart speaker can also be used to play music via Bluetooth connection. Turn off the projection, and you can have another Bluetooth speaker.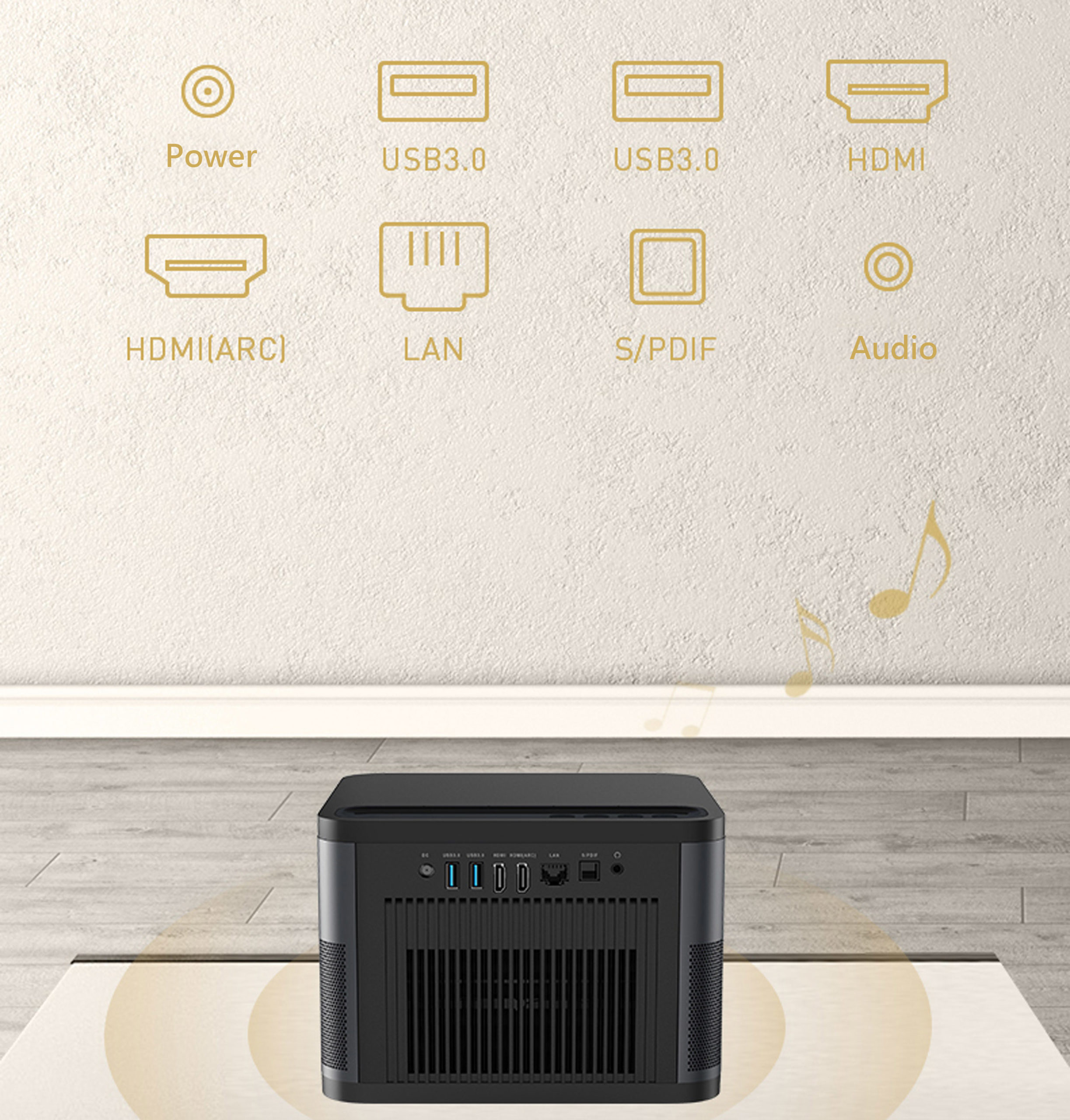 商品保養條款
購買此產品可享1年維修保養服務。顧客須出示購買單據正本,保養期將以單據上的購買日期為準。保養服務並不包括人為/意外的損毀及產品上的損耗品(如燈泡,閃光燈燈管,LED等)。如需要維修服務,請把需維修的產品及發票一拼帶到門市。本公司保留決定保修與否之最後權利。
如顧客所選購之貨品品質不合符生產標準(不包括已於當場測驗之功能,人為損毀及刮花),需於購買後7天內將該貨品及原廠之包裝,如紙箱,盒,說明書,未填寫之保用證及發票,一拼於門市作退換。所有消耗品(濾鏡,清潔劑,燈泡等)不設退換服務。在任何情況下,本公司均不會提供上門檢查,維修,更換服務。所有貨品不能退回現金,本公司保留決定保修/退換與否之最後權利。